Stone Bank Community Park
Our vibrant little community has an active park that hosts "the biggest small town parade in the state" along with baseball, softball, volleyball, concerts, and many other events. Check out what's happening and we hope to see you soon!
Support our Community Park
COVID-19 ANNOUNCEMENT: The Stone Bank Lions Club would like to thank The Stone Bank Strong Group for their donation to have The Stone Bank Community Park treated with BIO PROTECT, an antimicrobial surface protective cleaner that protects all surfaces for 90 days. This product is EPA Registered, FDA Approved and is Made In The USA!
The playground equipment, picnic tables, benches, concession stand, bathrooms and bleachers have been treated. We will continue to clean all surfaces with Hospital Strength Disinfectant, wash hands and practice social distancing at the park.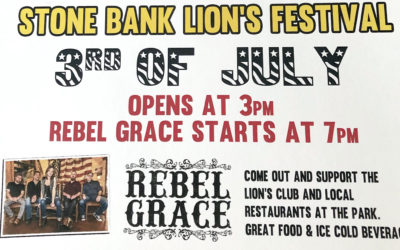 Great news Lake Country!! The Stone Bank Lion's Festival WILL take place on July 3rd this year. The park will open at 3pm and REBEL GRACE starts playing at 7pm. Come out and support the Lion's Club and local restaurants at the park while enjoying great food, ice cold...
read more